Memories
To follow shortly, when I get chance to scan in some pictures of our lovely labradors of the past, who are gone but are never forgotten.
LAKEMEADOW KESTREL
10/01/2004 - 16/09/2016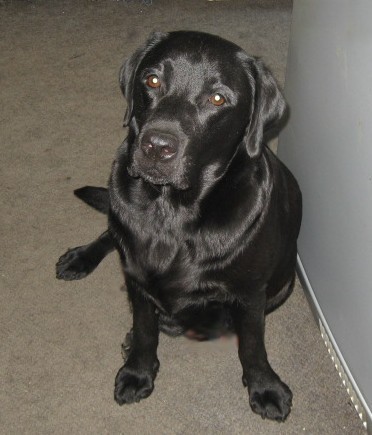 (Nigabee Gyroscope X Kampsall Kalas of Lakemeadow)

Ellie, was my "heart dog", a very sensitive and intelligent girl, always anxious to please, and quick to learn.She was only ever lightly shown, and, although she had won well and been placed at Open and Championship Shows, showing was never really Ellie's cup of tea. She very much preferred flushing pheasants and chasing grey squirrels in the local country park.
Ellie had several litters, and produced some excellent youngsters. From her first litter, the Res. C.C. winning Lakemeadow Cynan at Nigabee, owned by Julia Lewis. From her second litter, three pups who qualified for Crufts in their first appearances in the show ring, Lakemeadow Let It Be Me at Sharouns, Lakemeadow Let's Dance with Sharouns (B.P. in Breed S.K.C. Ch. Show, B.B.P. Bath and Blackpool Ch. Shows and B.P.I.S. Cheshire County Show), both owned by Shaun Williamson, and Lakemeadow Lady Jane Whistletyne, owned by Judith Keating. Through these offspring she is behind most of Sharouns and Whistletyne pedigrees, and so lives on via her very successful progeny. However, more importantly, she was "my very special Ellie" and will always have a place in my heart. She died, following a brief illness, just a few weeks before her 13th. birthday, having been diagnosed with cancer just one month earlier.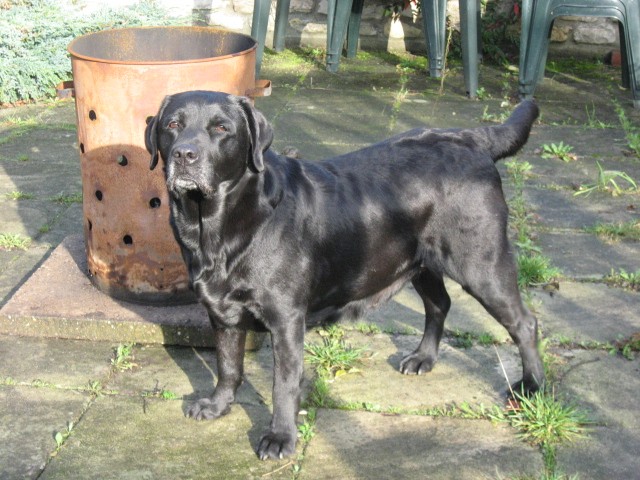 LAKEMEADOW LOOK NO FURTHER THAN SHAROUNS
(2 CC., 4 RCC.)
27/03/2000 - 28/02/2014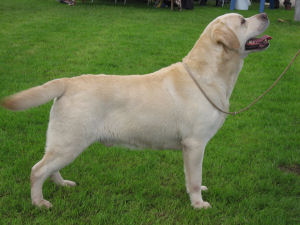 (Rocheby Old Smokey x Sharouns My Girl of Lakemeadow)
Hip Score 7:5.
Barney was owned in partnership with Shaun Williamson (Sharouns Labradors).
Barney had always been a family pet, returning to Lakemeadow at 4 years of age as a consequence of divorce. He had a wonderful temperament, but, as it was unfair on him to keep him as a house dog with several "girls", he went to live with Shaun a few years ago, an arrangement which enabled Barney to be shown. He thoroughly enjoyed being a show dog and did very well in the ring, having won his way out of Limit, and collected 2 CCs and 4 Res.CCs in the process. Such a shame his show career didn't commence till he was 5 years old.
Barney retired from the showring, after winning Best Veteran Dog at Crufts 2009, and lived out his retirement at Sharouns, finally "crossing the rainbow bridge" in March 2014, a few days short of his 14th. birthday.
A true gentleman and friend. Thank you, Barney, for all the pleasure you have given and for the wonderful legacy you have left at Sharouns.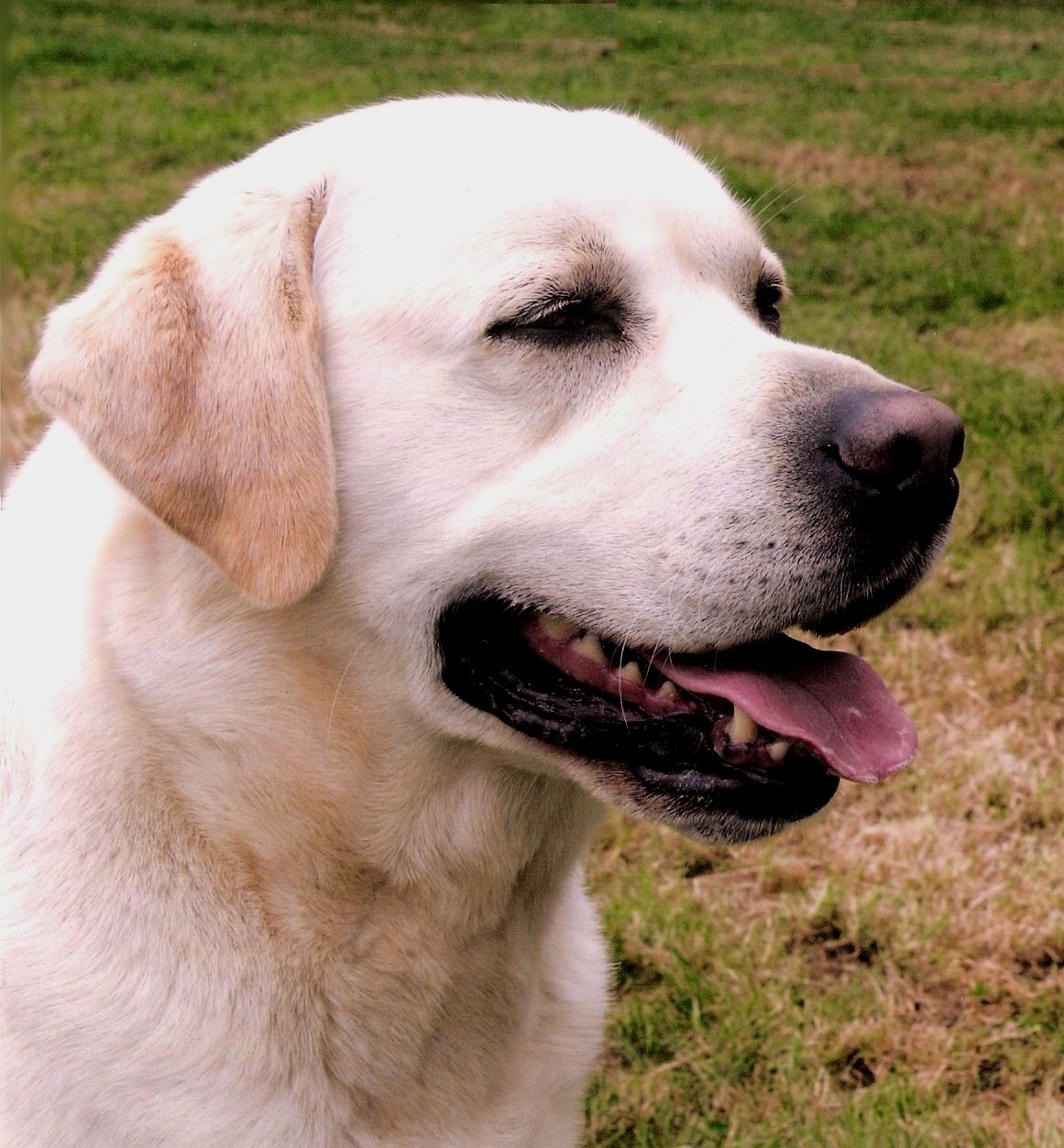 Barney had a wonderful day at Crufts 2009
Best Veteran Dog
From an entry of 27 (7 abs)
Thank you to judge, Mrs Pat Gill, for making Barney's retirement appearance such a special one.
KAMPSALL KALAS OF LAKEMEADOW
21/09/2001 - 22/08/2015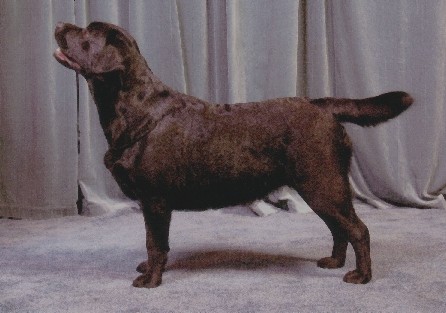 (Rocheby Old Smokey x Kampsall Kan Kan)

Daisy came to Lakemeadow in 2002 from the well known Kampsall Labradors, owned by Margaret and the late Bob Robinson. She was the first black at Lakemeadow since the mid 1980's.

Daisy won many classes at Open Shows, and placements at Championship Shows, (including Crufts 2003), she was a Best in Show winner in 2003, and she "Crufts Qualified" each year she was being shown. She had two litters, was an excellent mum, and produced some lovely offspring, including my two girls, Ellie and Ebony.

Daisy had a wonderful laid-back, true "labrador nature" and was so easy going and adaptable. When she retired from the show ring, and from breeding she went to live with a friend of mine, where she was able to enjoy being the centre of attention, without having to compete with the youngsters.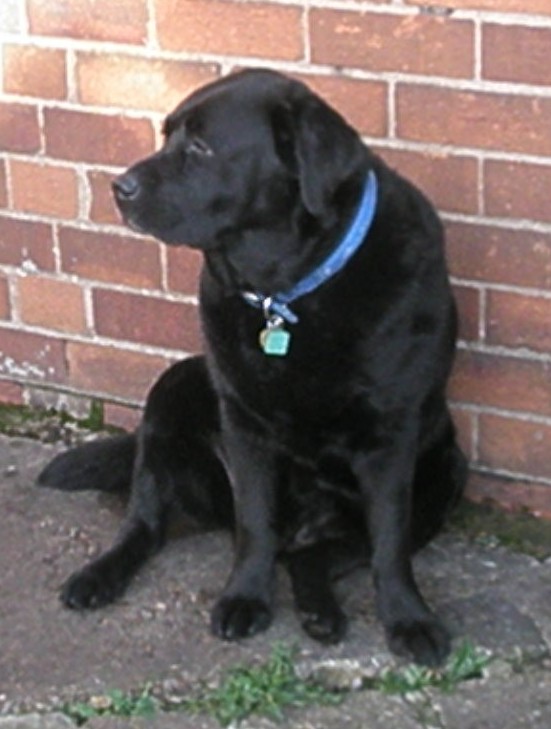 Daisy lived out her retirement, with my friends, Mags and Ken, until, at nearly 14 years of age, old age caught up with her. She was a wonderful character, and much loved by all those who came in contact with her, especially Mags and Ken, in whose lives she has left a huge gap, though many happy memories, and Daisy lives on through her two daughters here at Lakemeadow, Ellie and Ebony, and in their offspring.