About Us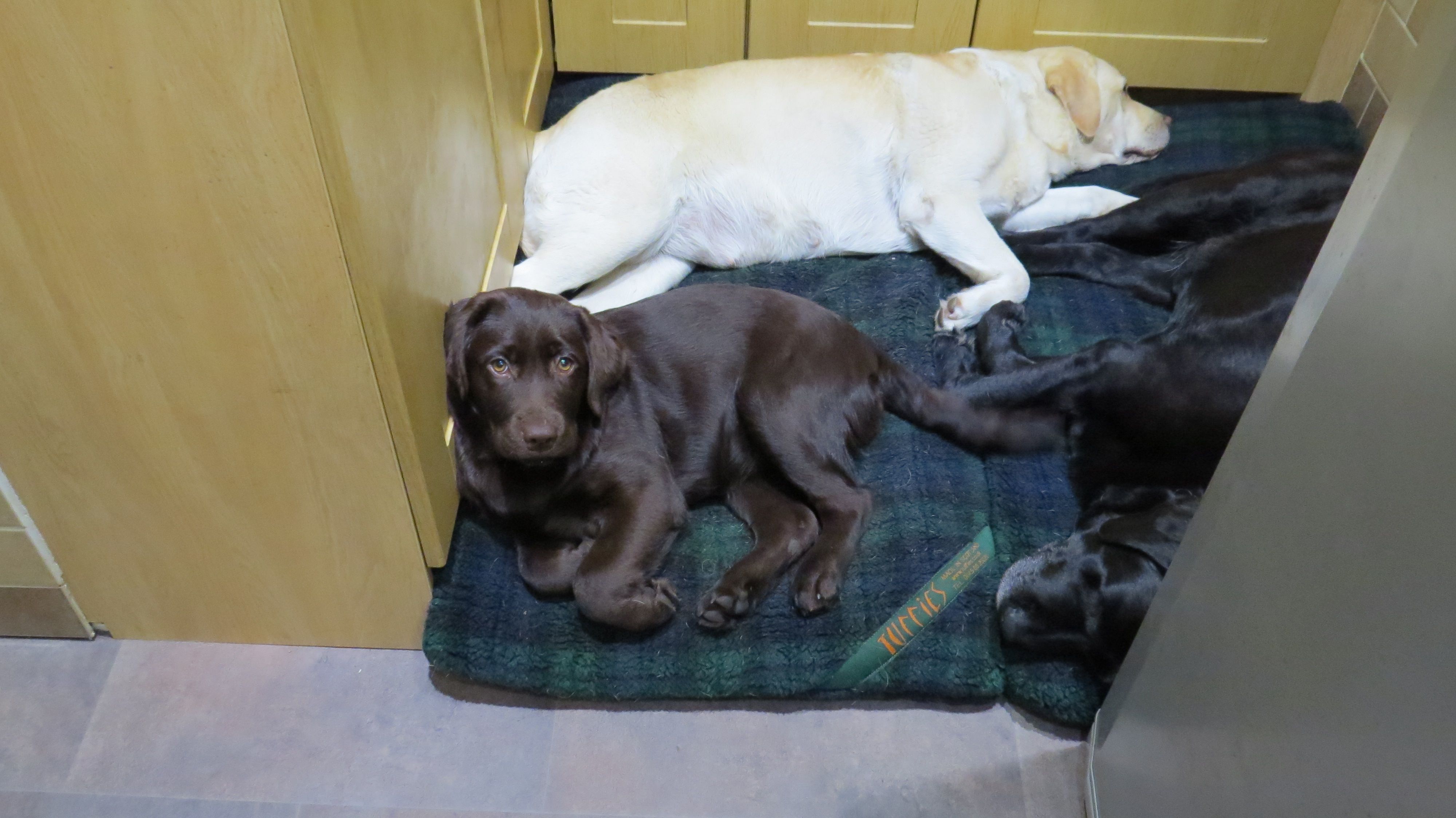 Lakemeadow Labradors at home
Lakemeadow Labradors, owned and bred by Jenny Dobson, is a very small "kennel", originating from Bolton, Lancashire, and now situated in Doncaster, South Yorkshire.
My dogs are first and foremost much loved family pets, who enjoy attending the occasional dog show (ie. family companion dogs first, and show dogs second). They all have low hip and elbow scores, clear eye certificates and excellent temperaments and they all live in the house as part of our family.
My love affair with this lovely breed started in 1967, when my parents bought Ross (Redvales Ismay), our first Labrador, a yellow dog of mainly Garshangan lines, as a family pet, from a local breeder, Miss Mary Rider. Having been encouraged to have a go at showing him by a friend who showed dogs, early success resulted in our becoming hooked, and Ross was soon joined by Emma (Am. Ch. Follytower Glenarem Dusky Debutante) from Mrs. Margot Woolley (Follytower Labradors), and Lakemeadow Labradors was launched, with the help of Margot, in 1968, with the arrival of our first litter, sired by Mrs. Bridget Docking's Am. Ch. Ballyduff Follytower Old Master (Ch. Ballyduff Hollybranch of Keithray x Ch. Follytower Silsdale Old Chelsea).
In 1975 Cresta (Glenarem Cresta, a daughter of Sh. Ch. Glenarem Wilkamaur Cascade) joined my small family of labradors and became the foundation bitch of my present line of yellows, ten generations, all of whom are descended from Cresta.
In 1982 Ben (Black Knight of Lakemeadow, by Sh.Ch. Strinesdale Old Spice x a Ch. Martin of Mardas daughter) joined Lakemeadow, followed shortly after by Meg (Mardas Clover of Lakemeadow, by Ch. Timspring Cleverly x a Ch. Martin of Mardas daughter).
The only other "incomers" to Lakemeadow have been Daisy (Kampsall Kalas of Lakemeadow, by Rocheby Old Smokey x a daughter of Sh.Ch. Dakross Daniel Widdon, combining Charway, Oakhouse and Mardas lines) who joined us in 2002 from Bob and Margaret Robinson (Kampsall Labradors) and Freya (A Sense of Pleasure's Odine at Lakemeadow) who joined us very recently from Katrin Korff in Germany.
Daisy is the breeding behind my "black line" and in selecting stud dogs I have endeavoured to line breed to these original dogs, to maintain type and temperament. Freya (by Sunnydaze Lincoln Navigator at Zadora x Riverlab's Camellia) carries some top American and European chocolate lines is a very exciting prospect for the future.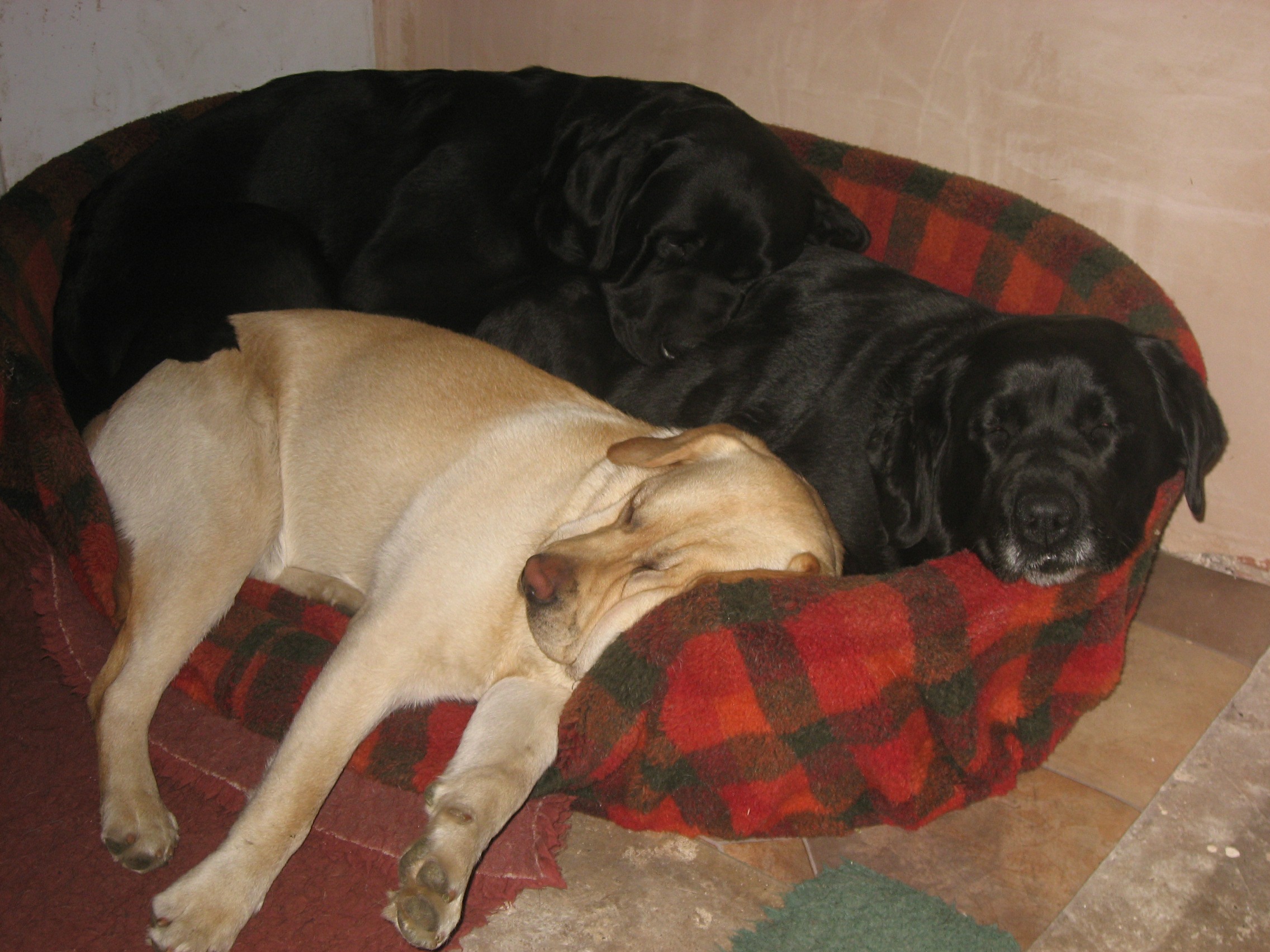 William, Ruby, and Ebbie, three generations sharing Eb's bed
I currently own three bitches, and I also own one dog. I generally only breed a litter when I am looking to keep a puppy myself, and to maintain my line of breeding, and I show only occasionally, though now my family is grown up, I am looking forward to being able to get back into the show ring more frequently.
I am a member of the Kennel Club Assured Breeder's Supporter Scheme.
Quality home-reared puppies are very occasionally available to approved homes. I aim to produce good looking, healthy, happy, well socialised pups that will be a pleasure to own. Litters are very carefully planned, from breeding stock that has been health screened for many generations, and are lavishly and lovingly reared.
I served as a Committee Member of the North West Labrador Retriever Club for 22 years, from 1991, until I decided to stand down in 2013, and was Vice Chairman of the Club for much of that time, and was the Club's Cup Steward from 1994, and also ran the Club's Puppy Register and Puppy Advice Line from 2000 until retiring. I am currently a Committee Member of the Midland Counties Labrador Retriever Club, and editor of the Club's Yearbook. I have judged the breed since 1984.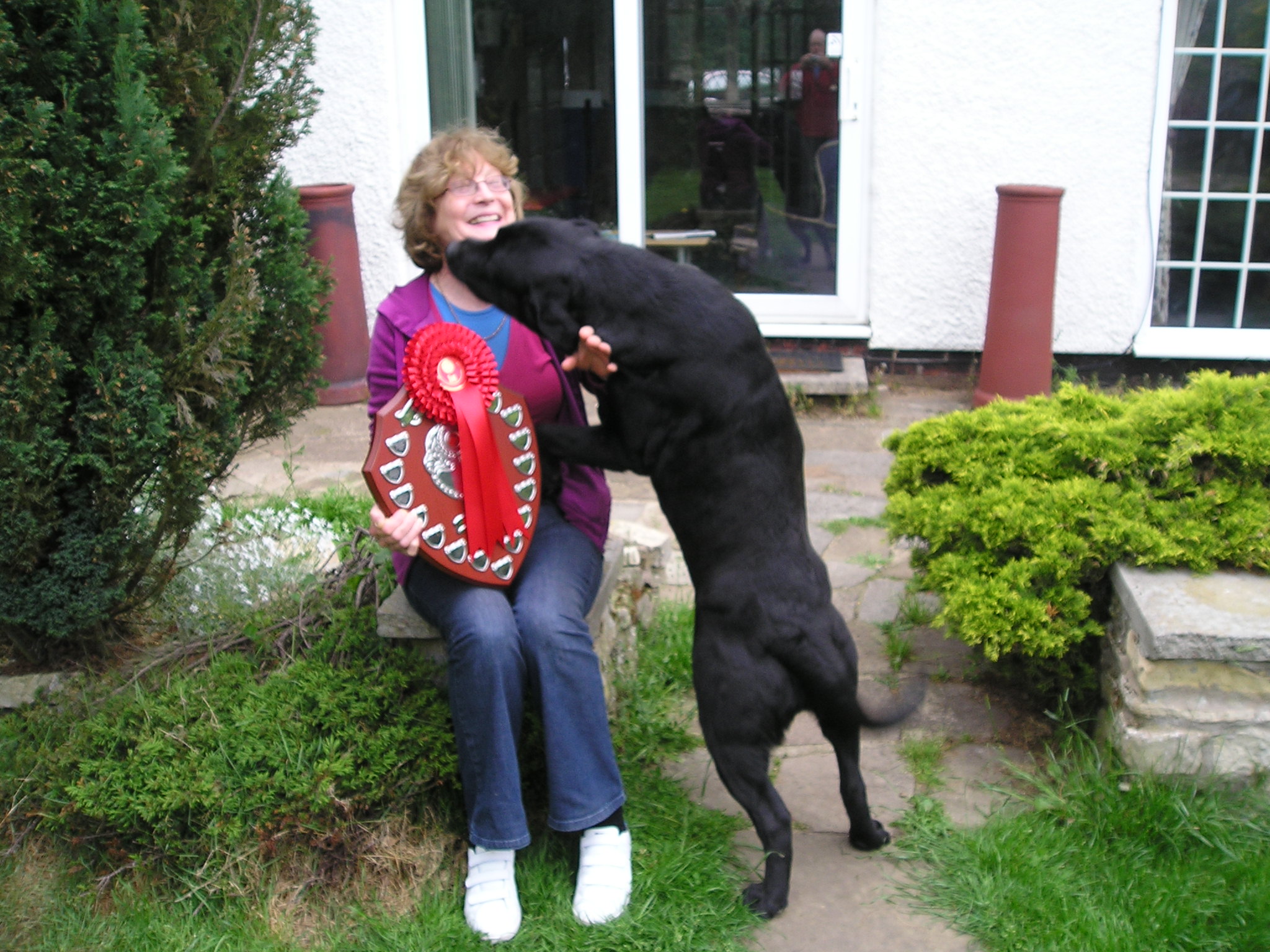 Trophy photo shoot..........the dignity of the moment is rather lost on William